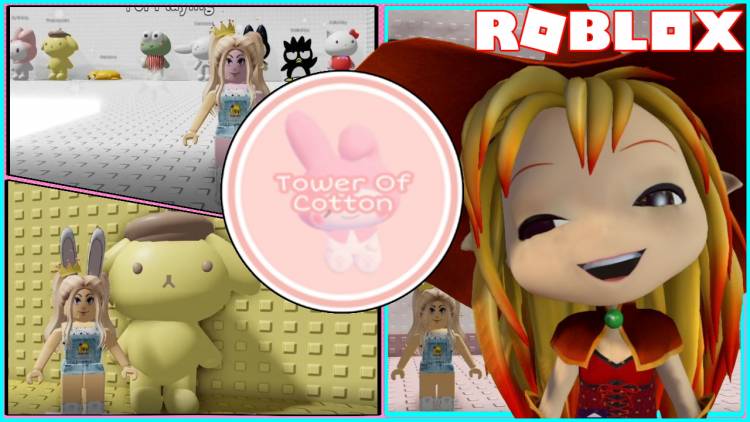 Roblox Tower Of Cotton Gamelog - January 12 2021
In this video, I am playing Roblox Tower Of Cotton - Sanrio Characters! I played a cute version of tower of hell! Ten levels of obstacle course! Will I be able to reach the top or Will I rage Quit? Stay tuned to find out!
Cute Sanrio characters and pastel-toned parkour! 귀여운 산리오 캐릭터들과 파스텔톤의 쉬운 파쿠르! 중간중간 귀여운 요소들이 숨어있습니다! :)
-- Use these time point to skip to the section in the video:
0:02:28 This doesn't look too hard! Lets get started!
0:02:55 We have reached My Melody level 2 Tower!
0:03:37 Reached POM POM PURI Level 3 Tower!
0:05:56 Reached GUDETAMA Level 4 Tower!
0:07:54 Reached Kero Kero Keroppi Level 5 Tower!
0:09:49 I fell and restarted at this point!
0:10:20 We tested and the game doen't save your progress! ALSO REALISED WE HAVE GRAVITY COIL!
0:10:28 Restarting from Keroppi Level 5 Tower!
0:11:44 Reached Cinnamoroll Level 6 Tower!
0:12:53 Reached Kuromi Level 7 Tower!
0:13:38 Reached Bad Badtz-Maru Level 8 Tower!
0:14:59 Reached Hello Kitty Level 9 Tower!
0:16:33 Reached the Final Pochacco Level Tower!
0:16:47 I did it! I reached the End!
If you liked my video please LIKE, SHARE and SUBSCRIBE ??? !!!
-- Roblox Tower Of Cotton - Sanrio Character By Ano_MSG0321
-- About Tower Of Cotton - Sanrio Character
☁ Tower Of Cotton ☁
귀여운 산리오 캐릭터들과 파스텔톤의 쉬운 파쿠르!
중간중간 귀여운 요소들이 숨어있습니다! :)
Roblox Tower Of Cotton Created 12/7/2020, Updated 1/11/2021, Max Players 30, Genre All. (Online Multiplayer Game, Tower Of Cotton, Tower Of Hell, Parkour, Obby, Sanrio Character, My Melody, Pom Pom Puri, Gudetama, Kero Kero Keroppi, Cinnamoroll, Kuromi, Bad Badtz-Maru, Pochacco)
-- Yesterday Gamelog
- ROBLOX GERALD! EASY TO STAY ALIVE BUT HARD TO ESCAPE - https://chloetuberchannel.blogspot.com/2021/01/roblox-gerald-easy-to-stay-alive-but.html
Let me know in the comment what game you would like to see me play.
I Love you all Chloe Tubers!
Roblox Tower Of Cotton Gameplay / Chloe Lim January 2021 Gamelog / #TowerOfCotton / #Parkour / #SanrioCharacter
Click Here to Visit