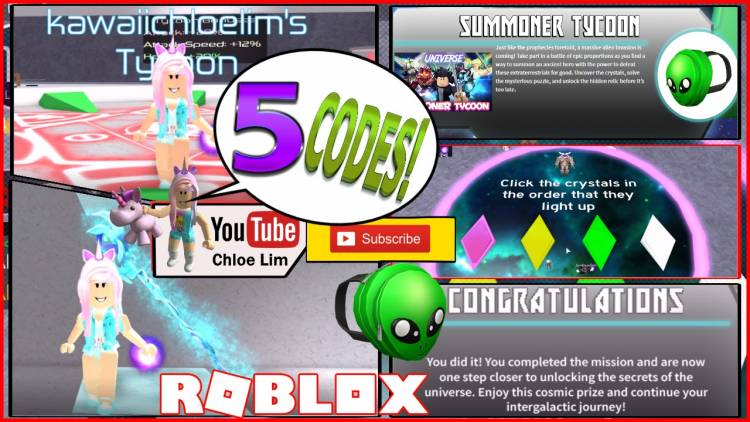 Roblox Summoner Tycoon Gamelog - July 1 2018
CODES THANKS TO Justin (check out his Youtube channel link below)
Code 1: FREESWORD
Code 2: 75000Likes
Code 3: 70000Likes
Code 4: MonsterHunter
Code 5: FeaturedPromoCode
You can try the code: Rubies (but it didn't work for me)
-- Use these time point to skip to the section in the video:
0:00:28 Step 1 Find an EVENT sign with color crystals and complete all the levels of repeat the pattern!
0:01:01 After completing the color crystals challenge, you will get a Hero - Androidmeda - equip it as one of your heroes to start the next stage!
0:01:30 Step 2 You have to Kill 300 Aliens and 3 Alien Boss (your equiped heroes will do fighting for you)!
0:01:39 My equiped heroes Killed the last Boss for me - Didn't have to do a thing LOL - I got the Item Alien Bag!
0:02:02 Codes time!
0:04:58 Back to building on my tycoon!
0:07:15 Showing you my pets!
0:08:40 Going to kill some Aliens!
0:09:07 Shout out to Justin who shared the codes with me!
0:12:48 Showing you how the two Event Items look!
--
Chloe Roblox Store
(GET IT NOW)
If you liked my video please LIKE, SHARE and SUBSCRIBE ??? !!!
--
Roblox Summoner Tycoon by Albatross Studio
--
About #Roblox Summoner Tycoon
[????UNIVERSE EVENT] Complete the in-game event to win the Alien Backpack!!
Summon and fight alongside unique heroes in Summoner Tycoon !
Use the loot you get from defeating monsters to upgrade your tycoon, buy new weapons, and summon stronger heroes.
Roblox Summoner Tycoon Created 7/16/2017, Updated 6/30/2018, Max Players 5, Genre RPG. (Online Multiplayer Game, #SummonerTycoon)
--
Yesterday Gamelog
Roblox Heroes of Robloxia Gameplay! Mission 5! Getting the Event Item (Satell-Hat) (warning LOUD SCREAMS)!
- https://chloetuberchannel.blogspot.com/2018/06/roblox-heroes-of-robloxia-gameplay_29.html
Let me know in the comment what game you would like to see me play.
I Love you all Chloe Tubers!
Roblox Summoner Tycoon Gameplay / KawaiiChloeLim July 2018 Gamelog / Chloe Tuber Channel
Click Here to Visit