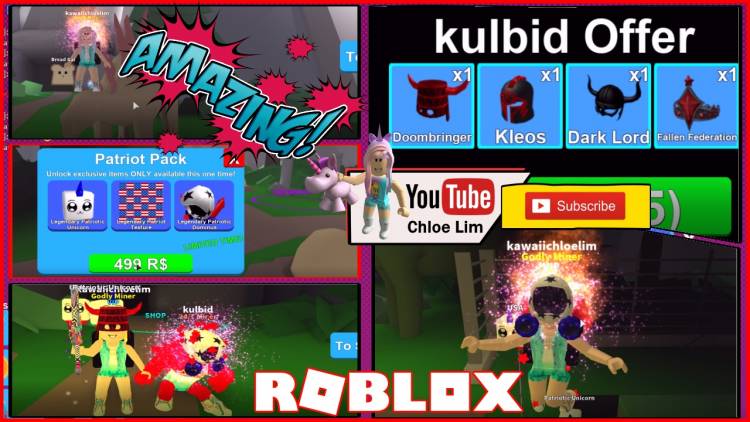 Roblox Mining Simulator Gamelog - May 26 2018
-- Use these time point to skip to the section in the video:
0:00:54 I'm in the new DINO Land!
0:01:01 I'm buying the Patriot Pack!
0:02:46 Check out what Kulbid is giving me!
0:04:26 Lets go digging in DINO Land!
0:07:55 I'm making chocolate hatch all my eggs - I laughed so hard I got Hiccups!
0:16:28 Trying on the Legendary DOOMBRINGER that Kulbid gave me!
0:17:55 Buying the new Bone Blade in DINO Land!
0:20:39 Trying to kill the Dino!
--
Chloe Roblox Store
(GET IT NOW)
If you liked my video please LIKE, SHARE and SUBSCRIBE ??? !!!
--
Roblox Mining Simulator by Runway Rumble
--
About #Mining Simulator
???? Dinosaur Land - Explore a Jurassic world, and unearth ancient materials! (2 rebirths needed)
⛰️ 10 New Ore/Blocks
???? 2 new tools (Bone Bat, Bone Blade)
???? New backpack (Bone Barrel)
???? New Inventory Sorting options
???? New Inventory Item Lists (shows what items you're missing)
???????? Memorial Pack this week only!
⛏️ 9 new tool skins
???? 4 new Legendary Hats, and 4 new Epic Hats
Roblox Mining Simulator Created 2/13/2018, Updated 5/25/2018, Max Players 10, Genre All. (Online Multiplayer Game, #MiningSimulator)
--
Yesterday Gamelog
Roblox SURVIVE THE RED DRESS GIRL Gameplay! WARNING! Sudden loud screams!
- https://chloetuberchannel.blogspot.com/2018/05/roblox-survive-red-dress-girl-gameplay.html
Let me know in the comment what game you would like to see me play.
I Love you all Chloe Tubers!
Roblox Mining Simulator Gameplay / KawaiiChloeLim May 2018 Gamelog / Chloe Tuber Channel
Click Here to Visit