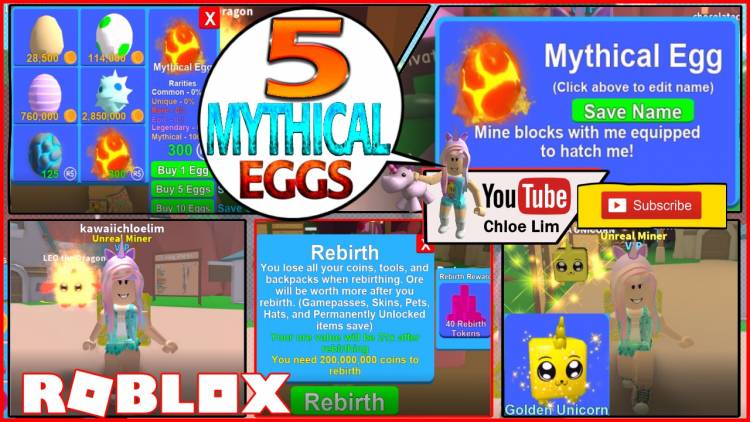 Roblox Mining Simulator Gamelog - June 10 2018
TO WIN:
SUBSCRIBE - share your subscription to public
LIKE
COMMENT - I want a Mythical Egg - with your roblox name
(FIRST 5 who sub, like and comment will get the eggs)
-- Use these time point to skip to the section in the video:
0:01:15 Buying some Mythical Eggs to giveaway!
0:04:19 My 19th Rebirth!
0:04:52 Going to Hatch one of the Mythical Eggs!
0:05:59 I hatched a Golden Unicorn!
0:17:46 My 20th Rebirth!
--
Mining Simulator VIP SERVER
--
Chloe Roblox Store
(GET IT NOW)
If you liked my video please LIKE, SHARE and SUBSCRIBE ??? !!!
--
Roblox Mining Simulator by Runway Rumble
--
About #Mining Simulator
Welcome to Mining Simulator. Team up with your friends, or go on a solo mining expedition to discover rare gems and become rich!
???? TRADING IS BACK!
???? 3 New Rebirth Backpacks (Galactic Bucket, Inferno Pack, Deluxo 6000)
???? MOAB Explosive
???? New Mythical Tier (Better than Legendary)
???? 4 New Mythical Pets
???? 6 New Mythical Hats
⚔️ Use Explosive and Tools at the same time
???? New Mining Ranks
Dinosaur Land New Layer
Infinite Backpack now comes with a sell button!
Roblox Mining Simulator Created 2/13/2018, Updated 6/10/2018, Max Players 10, Genre All. (Online Multiplayer Game, #MiningSimulator)
--
Yesterday Gamelog
Roblox Bee Swarm Simulator Gameplay! 11 working CODES! THE KING BEETLE!
- https://chloetuberchannel.blogspot.com/2018/06/roblox-bee-swarm-simulator-gameplay-11.html
Let me know in the comment what game you would like to see me play.
I Love you all Chloe Tubers!
Roblox Mining Simulator Gameplay / KawaiiChloeLim June 2018 Gamelog / Chloe Tuber Channel
Click Here to Visit