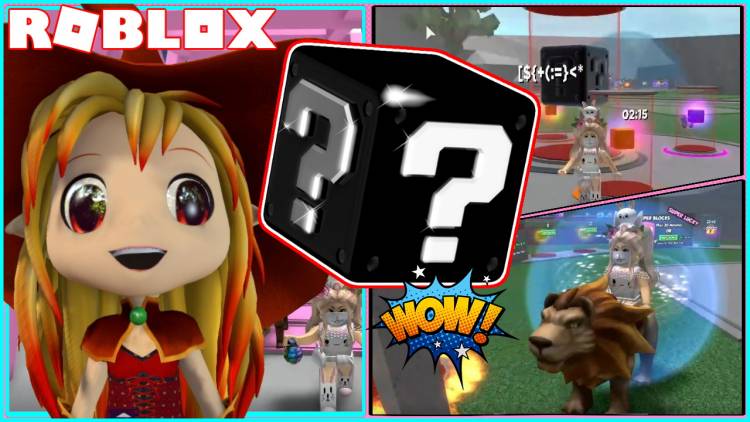 Roblox Lucky Blocks Battlegrounds Gamelog - March 25 2021
In this video, I am playing Roblox LUCKY BLOCKS Battlegrounds! I have not played this game for quite a while and there's so many more types of blocks now. It's a fun game where you get mystery lucky blocks and open them to get unexpected items and weapons to battle with other players in the server!
Players spawn in one of eight color-themed bases surrounded by a semi-transparent orb and connected to an elevated grassy area by a drawbridge. Surrounding each base are capsules containing blocks resembling Question Blocks from the Super Mario franchise, which contain gears based on their rarity.
Blocks are the primary mechanic of the game. They provide players with different gears based on their rarity. This is a list of each block type and rarity.
-- Use these time point to skip to the section in the video:
0:01:05 Lets see what we get from my first 3 lucky blocks!
0:13:35 I got a Galaxy block and it gave me an Eagle that does nothing! Can't even fly!
0:15:05 I spawned a Lion and got stuck on the lion!
If you liked my video please LIKE, SHARE and SUBSCRIBE ??? !!!
-- Roblox LUCKY BLOCKS Battlegrounds By silky_dev
-- About LUCKY BLOCKS Battlegrounds
???? NEW LIMITED TIME UPDATE! ????
- ❓ Laser Blocks Added!
- ???? Mech Armor Added
Play for 45 minutes to get for FREE!
???? NEW UPDATE! ????
- ???? Galaxy Blocks Added!
- ⚔️ 200+ New Gear!
- ???? New Music!
- ⚙️ Bug Fixes!
???? Team up and battle your friends, collect gear from Lucky Blocks, storm the Battleground, and become victorious!
Roblox LUCKY BLOCKS Battlegrounds Created 2/19/2017, Updated 3/23/2021, Max Players 8, Genre Fighting. (Online Multiplayer Game, LUCKY BLOCKS Battlegrounds, Lucky Blocks)
-- Yesterday Gamelog
- ROBLOX COLOR BLOCK / ROBLOX SNOWBALL! PLAYING AND WINNING TWO GAMES FROM SAME CREATOR - https://chloetuberchannel.blogspot.com/2021/03/roblox-color-block-roblox-snowball.html
Let me know in the comment what game you would like to see me play.
I Love you all Chloe Tubers!
Roblox LUCKY BLOCKS Battlegrounds Gameplay / Chloe Lim March 2021 Gamelog / #LuckyBlocksBattlegrounds / #LuckyBlocks / #Update
Click Here to Visit