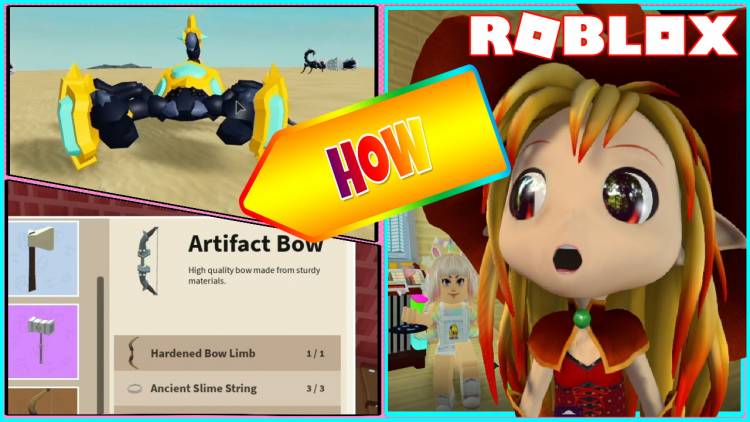 Roblox Islands Gamelog - August 11 2020
In this video, I played Roblox Islands! I will show you how and where to get all the ITEMS from the NEW POTIONS UPDATE! I made both of the potions, made the Artifact Bow, bought the jukebox and found music disks from killing some mobs! For making the Artifact Bow, you need 3 Ancient Slime String and 1 Hardened Bow Limb to craft. Ancient Slime String is a rare drop from Slimes, and you can craft the Hardened Bow Limb for 300 Maple Wood!
More information on the potions:
Regen Potion actually Regenerates your health over time, great to use when injured in fighting! You need starfruit, Red mushroom and Empty Potion bottles to make it!
Strength Potion gives you Additional Damage when fighting the Mobs when using melee weapons.
You can also get a new Weapon blueprint from the Scorpion Mob call the Vampire Bow! First thing to do is head to the Wizard Island. You will need to kill Slime to get a Buffalkor Key, then kill Buffalkor to get the Wizard Island key. Slay a bunch of Wizards, and you will eventually get the Desert Island Key which leads to the new Desert Island.
Now that you have the key, head over to the Desert Island! Run around the island and you will find an area that spawns a bunch of mean looking scorpions. Using a spellbook is going to be your best bet, so you can stay further away from them. This is your life now until you find the blueprint! The drop is incredibly rare! When you find the blueprint and use it, you will be able to craft Vamp Bows! These require 1 Artifact Bow and 1 Ruby Skorp Stinger. You will have hopefully gotten the stingers while you were out farming for the blueprint.
Apart from Building your own island, Creating huge farms, Selling items to make money, Cooking tasty delicacies and Gather valuable resources.
The new Skyblock / Islands update includes: Potion Brewing, Desert Island, Skorp Mob, Basic Bow, Artifact Bow, Vamp Bow, Red Sandstone Block (with brick, slab and stair), Added 3 new music disks found from killing mobs, Dead Bush and MORE!
-- Use these time point to skip to the section in the video:
0:03:48 Making a Brewing Stand!
0:04:56 Making some Regen potions!
0:05:50 Making the Artifact Bow! You can get the Ancient Slime String from killing slimes in slime Island!
0:07:35 Making Arrows as a Bow is useless without the Arrows!
0:07:56 You need this Desert Island Key to enter the new Desert Island! You can get them by fighting the Wizards at Wizard Island!
0:08:37 Trying out my bow and arrow and also this is the place you can get the Ancient Slime Strings! It's a rare drop from the slime mob!
0:10:58 This is the place to kill Wizard and get the Desert Island Key as a rare drop!
0:11:47 Entering the new DESERT ISLAND! There's a new stone call Red Sandstone!
0:12:37 Taking out my Regen Potions before starting the fight with the Skorp Mob!
0:14:43 Got some Iron and Gold Skorp Scale! Don't know what they are for!
0:15:54 I got the Gold Skorp Claw for making a Strength Potion!
0:19:22 There's a new tree from the last update - Hickory Tree!
0:21:31 Making one more Vending Machine!
0:21:55 Time to make that Strength Potion!
0:22:25 Buying the Jukebox because I got three music Disks from killing mobs!
0:23:10 Placing in the Music Disks! Sorry Can't play the music because of Copyright problems!
0:25:07 Making some Red Sandstone Blocks!
If you liked my video please LIKE, SHARE and SUBSCRIBE ??? !!!
-- Roblox Islands [POTIONS!] By Easy.gg
-- About Islands
Welcome to Islands!
???? Build your own island
????‍???? Create huge farms
???? Sell items to make money
????‍???? Cook tasty delicacies
✨ Forage valuable items
???? And more!
???? Update Log (August 9):
- Potion Brewing
- Desert Island
- Skorp Mob
- Basic Bow
- Artifact Bow
- Vamp Bow
- Red Sandstone Block (with brick, slab and stair)
- Added 3 new music disks found from killing mobs
- Dead Bush
- Improved Inventory Tooltips
- Selected Item Title
- Added French Translations
Roblox Islands Created 4/8/2020, Updated 8/10/2020, Max Players 60, Genre All. (Online Multiplayer Game, Islands, Artifact Bow, Desert Island, Potions, Skorpion Mob)
-- Yesterday Gamelog
- ROBLOX CREEPER CHAOS! CREEPER QUEEN INCOMING - https://chloetuberchannel.blogspot.com/2020/08/roblox-creeper-chaos-creeper-queen.html
Let me know in the comment what game you would like to see me play.
I Love you all Chloe Tubers!
Roblox Islands Gameplay / Chloe Lim August 2020 Gamelog / #Islands / #DesertIsland / #VampBow
Click Here to Visit