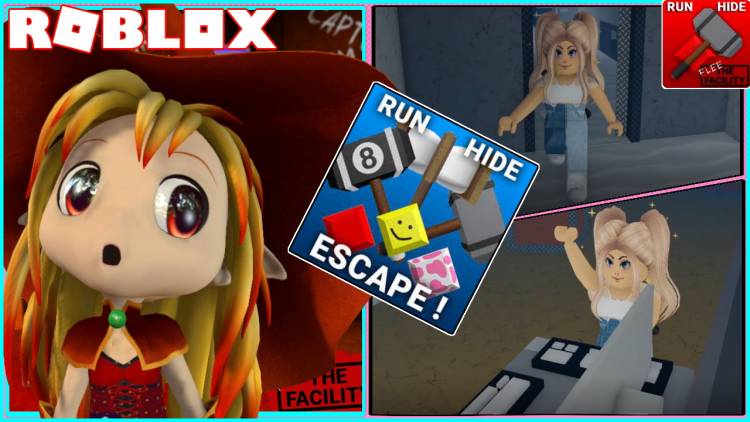 Roblox Flee the Facility Gamelog - April 28 2021
In this video, I am playing Roblox Flee the Facility! I used to play this everyday just like Arsenal now, sad and sorry that the game didn't add more maps and updates!
Flee the Facility is a ROBLOX teamwork-based game, created by user ROBLOX user MrWindy, and heavily inspired by Dead by Daylight. Its focus is for survivors to hack 3-5 computers and escape through one of two exits that are highlighted after all of the computers have been hacked. Meanwhile, one player is placed into a small brown room and is designated as the Beast, whose mission is to capture all survivors and therefore prevent them from escaping to win the game. After 15 seconds of being in the boxed room, the Beast spawns into one of several random locations on the map in first-person view and can start hunting down the survivors.
-- Use these time point to skip to the section in the video:
0:01:05 Round 1 - Facility_0! We are the survivors!
0:04:19 That was fast, we escaped!
0:07:17 Round 2 - Airport! Chocolate's the Beast!
0:10:47 Tried saving the other player but he ran the wrong way!
0:11:12 I escaped!
If you liked my video please LIKE, SHARE and SUBSCRIBE ??? !!!
-- Roblox Flee the Facility [Beta] By A.W. Apps
-- About Flee the Facility [Beta]
RUN, HIDE, ESCAPE! Run from the beast, unlock the exits, and flee the facility!
This game runs well on phones, tablets, PC, and Xbox.
Now translated to French, German, Korean, Chinese (Simplified), and Chinese (Traditional)
Roblox Flee the Facility Created 7/1/2017, Updated 4/12/2021, Max Players 5, Genre Horror. (Online Multiplayer Game, Roblox, Flee the Facility)
-- Yesterday Gamelog
- ROBLOX ARSENAL! WHEN I'M BORED, I PLAY THIS GAME - https://chloetuberchannel.blogspot.com/2021/04/roblox-arsenal-when-im-bored-i-play.html
Let me know in the comment what game you would like to see me play.
I Love you all Chloe Tubers!
Roblox Flee the Facility Gameplay / Chloe Lim April 2021 Gamelog / #FleeTheFacility / #Beast / #RobloxFlee
Click Here to Visit