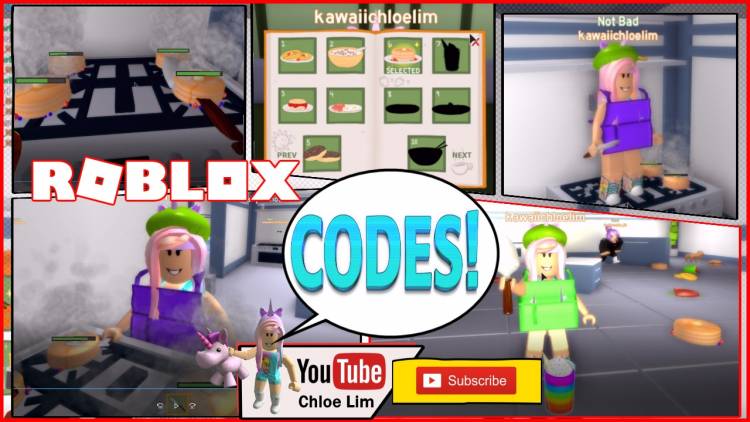 Roblox Cooking Simulator Gamelog - June 8 2018
CODE 1 : KREW
CODE 2 : HYPE!
For 4 Other CODES, watch this vid: https://www.youtube.com/watch?v=fHe9a_5UACY
-- Use these time point to skip to the section in the video:
0:00:29 Codes time!
0:01:09 Getting a better Spatula!
0:01:31 Getting more recipe to earn more money!
0:05:59 Minigame time - these games give much more money than cooking!
0:16:54 Another Minigame time!
0:18:24 Getting my purple Apron!
0:21:15 Trying to kill Larry!
--
Chloe Roblox Store
(GET IT NOW)
If you liked my video please LIKE, SHARE and SUBSCRIBE ??? !!!
--
Roblox Cooking Simulator by The Cooking Boys / Forstaken / aka tofu
--
About #Cooking Simulator
Cooking Simulator! Play with friends, out-cook your foes and grind your way to becoming a culinary master!
Developers:
- @Tofu /Forstaken: Director
- @RBLXcrackop: Programmer
- @DevReXiel: Item modeler
- @VenCreations: Map
Roblox Cooking Simulator Created 4/21/2018, Updated 6/5/2018, Max Players 16, Genre RPG. (Online Multiplayer Game, #CookingSimulator)
--
Yesterday Gamelog
Roblox Welcome to Bloxburg Gameplay! - Buying a NEW CAR (Bloxus TS) and Exploring the NEW UPDATED MAP!
- https://chloetuberchannel.blogspot.com/2018/06/roblox-welcome-to-bloxburg-gameplay.html
Let me know in the comment what game you would like to see me play.
I Love you all Chloe Tubers!
Roblox Cooking Simulator Gameplay / KawaiiChloeLim June 2018 Gamelog / Chloe Tuber Channel
Click Here to Visit