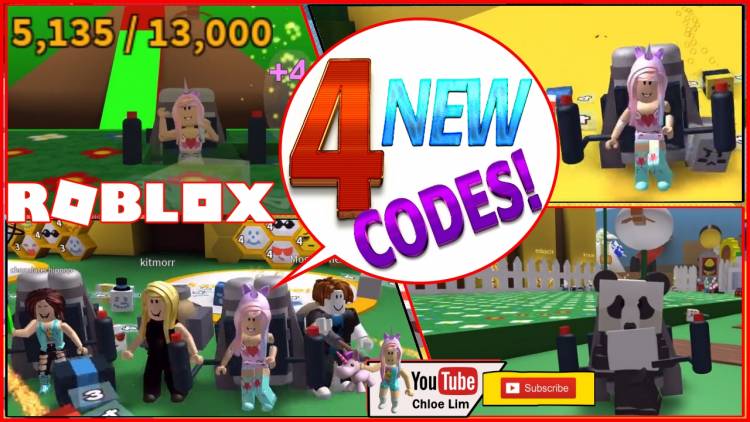 Roblox Bee Swarm Simulator Gamelog - August 17 2018
Code 1 : MegaMittens
Code 2 : RoyalRobzi
Code 3 : NikTacAttack
Code 4 : Wink
0:01:03 Code time!
0:04:50 Getting the Mother Bear's quest!
0:05:37 Going to fight the Ants again!
0:11:19 My cousin Sarah joined!
0:15:05 Found a pineapple treat behind the pinapple!
0:19:08 Werewolf!
--
Chloe Roblox Store
(GET IT NOW)
If you liked my video please LIKE, SHARE and SUBSCRIBE ??? !!!
--
Roblox Bee Swarm Simulator by Onett
--
About Roblox Bee Swarm Simulator
Update:
- Ant Challenge: Collect pollen to summon ants - defeat as many as you can in 5 minutes to earn rewards!
- Bee Leveling: Gather pollen, fight enemies, and feed treats to your bees to level them up and increase their stats!
- Mother Bear: Her quests will help explain the new content and how to level your bees. Read what she says!
- Gifted Bees: Bees have a tiny chance of being "Gifted" - granting them a special look, increased stats, and more!
- Amulets
- 15 new Panda Bear quests
Roblox Bee Swarm Simulator Created 3/23/2018, Updated 8/1/2018, Max Players 5, Genre All. (Online Multiplayer Game, #BeeSwarmSimulator)
--
Yesterday Gamelog
[BOSS! ???? UPDATE] Roblox Jailbreak Gameplay! Playing with wonderful friends
- https://chloetuberchannel.blogspot.com/2018/08/boss-update-roblox-jailbreak-gameplay.html
Let me know in the comment what game you would like to see me play.
I Love you all Chloe Tubers!
Roblox Bee Swarm Simulator Gameplay / KawaiiChloeLim July 2018 Gamelog / #ChloeLim Channel / #Roblox #BeeSwarmSimulator
Click Here to Visit