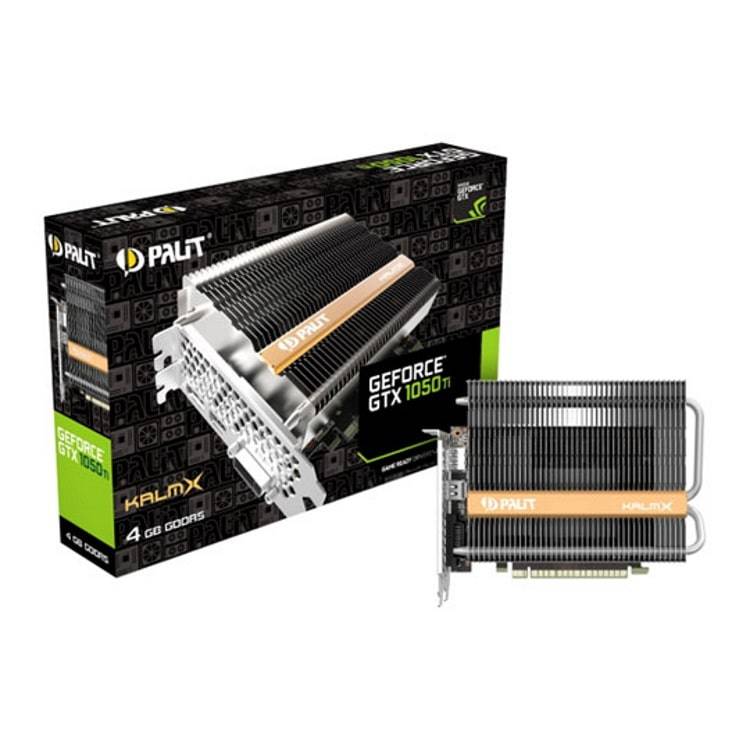 Palit GeForce® GTX 1050Ti KalmX 4GB
Product details of Palit GeForce® GTX 1050Ti KalmX 4GB
Efficient passive cooling
Base clock of the GPU: 1,290 MHz
Boost clock of the GPU: 1.392 MHz
Memory clock: 3,500 MHz (effectively 7,000 MHz)
No additional power connection
Compact GeForce GTX 1050 Ti with passive cooling concept
The Palit GTX1050 Ti KalmX is currently Nvidia's faster totally fanless graphics card that provides enough performance for 3D gaming at 1080p and multi-monitor systems. The card also features HDMI 2.0 and Displayport 1.3.
Features
Powered by NVIDIA GeForce GTX 1050 Ti GPU
KalmX heatsink for silent cooling
Integrated with 4GB GDDR5 memory and 128-bit memory interface
Features Dual link DVI-I, HDMI (2.0) and DisplayPort
Core Clock: Base / Boost clock:1290 / 1392 MHz
Supports NVIDIA G-Sync, CUDA Technology, GPU Boost 3.0
G3D benchmark rating: 5,883
With a passive cooler and the advanced powerful Pascal architecture, the Palit GeForce GTX 1050Ti KalmX pursues the silent 0dB gaming environment. Palit GeForce GTX 1050 Ti gives the gaming horsepower to take on today's most demanding titles in full 1080p [email protected] FPS.
GeForce GTX 10-series graphics cards are powered by Pascal to deliver twice the performance of previous-generation graphics cards, plus innovative new gaming technologies and breakthrough experiences.
Specifications of Palit GeForce® GTX 1050Ti KalmX 4GB
Brand - Palit
SKU - 384574092_SGAMZ-908064023
Model - NE5105T018G1-1070H
Click Here to Visit