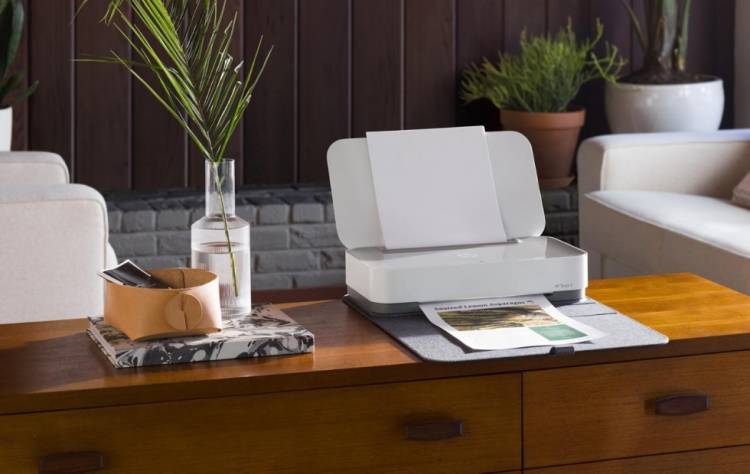 HP Tango- The First Smart Home Printer
Remember when printers used to look like the conventional old typewriter? If you do, you might just forget about them and start using HP's new printing device.
Meet HP's new Tango Printer, a printing device that is better than every conventional printer, not just in aesthetics, but also in functionality.

Printers are not really built for the constantly connected world. However, HP has gone a step forward with its latest ultra modern printer -The Tango.
Features of the HP Tango Printer
1. Always connected
The Tango has several impressive and unprecedented features. The most appealing feature it has is that it lets you print from wherever you are - it can take commands from Google, Alexa, and Cortana. If you want to print a document, you don't even have to fire up an app or walk across the room.
2. Smart Ink Refills
Another impressive feature is that if the printer runs out of the HP cartridge, an instant ink service automatically orders for new HP toner cartridges, as a backup for when the ink in the printer is running low.
3. Design
At first glance, the HP Tango Printer looks like small fabric covered box or a thick book, but enclosed in it is a small wireless printer boasting of many state-of-the-art tricks.
4. Price
Starting from $150 for the base unit and an extra $50 for the Tango X model covered in fabric, the mini printer is definitely not something you want to hide in your study, but rather use as a showpiece.
5. Printing Capabilities
The HP Tango, as you have probably already guessed, is the world's first smart home printer. The printer is very small, with a form factor of 14.8 x 8.1 x 3.6 inches, and is also very light, weighing only 6.8 pounds.
Starting with the more conventional or traditional features, the Tango can print a black print resolution of almost 1,2000 x 2,000 dpi with a color resolution of 4,800 x 1,200 dpi. The printer is a thermal inkjet machine itself. It can print a very impressive amount, up to eleven prints a minute, which is obviously a fairly high amount, given its deceptively small size. The HP Tango presents decent specifications for its size to people who are looking to purchase a new inkjet printer.
However, it is none of these incredible features that make this printer smarter than one you might already own.
What makes it a Smart Printer?
HP says the Tango gains extra smarts, despite the previously stated unique features due to its ability to allow users to print from anywhere, whether it is on the same Wi-Fi network as the device or halfway around the world! You can access the smart printer with the HP Smart App to enable printing from anywhere.
HP also has a few other smart features in the app. For example, you get instant notification when you run out of HP Toner cartridge.
There are other features in the app like easy scanning of documents with your phone camera, and a setup wizard for getting your smart printer connected and ready. Instead of getting notified about the toner cartridges, users can also opt to have the printer automatically order the HP Toner cartridge, when the ink is running low.
Order your Smart Printer Now!
In today's day-and-age of AI and virtual assistants, we all know that a device is not truly smart unless we can talk to it. So HP has kept its title of a 'smart printer' by adding voice functionality to the Tango.
Currently, the printer is compatible with Alexa, Google Assistant, and Cortana. You can inform your virtual assistant that you need a specific type of form printed, and it will communicate with your smart printer.
Buyers looking to buy the HP printer can begin ordering now. For Canadians, Toner4less can be a great resource if you are looking for cheap laserjet printer cartridges and printer cartridges for hp laserjet printers. You can pick colors variants as well with either Indigo Linen to start or with the Cork Currant coming in later this year.
Click Here to Visit