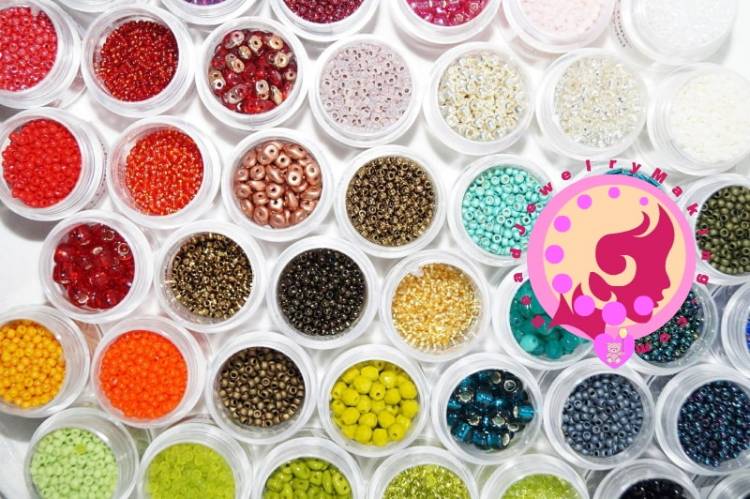 How to start making bead jewelry?
Making bead jewelry is not hard but to make some really nice creations needs a little more time and creativity. There are so many different techniques to make bead jewelry but it should begin with what materials do you have or you can acquire at this moment.
Materials
- Crystal Bicones:
Let's say you have a bunch of Swarovski crystal bicones, you do not need to do much designing as the Swarovski crystals are already sparkly and beautiful.
The most common bead stitch used for crystal bicones should be the RAW or Right Angle Weave beading technique. You can see a free online basic tutorial at the right angle weave. It's a pretty simple beading technique to start off with, with this stitch you can also make beaded pendants, bracelets, rings, and even 3D beading!
- Seed beads:
If you happen to have lots of seed beads like the Japanese glass seed beads, you might want to learn and make something with more design but this will be a longer beading project depending on the size of your beads. You can always use the same RAW Right Angle Weave technique or do more complicated ones like Peyote stitch, ladder stitch, brick stitch, and more. You can find a variety of stitches tutorial online at Basic Beading Instructions.
- Stringing material:
There are different types of strings in the market for different bead sizes and materials. From Waxed strings to wires to nylon strings. You first have to look at what kind of beads you have in hand, if you have crystals, try not to use nylon strings as the crystals will cut through the string in no time. Try to use waxed strings with crystals. For seed beads, almost all types of stringing material are fine but the important part is the size of the string, if your string is too thick you will not be able to bead very well with the seed beads. So string selection is important based on your bead type.
- Other Tools:
You might need scissors, plier, wire cutter, and more for cutting and closing of the clasps.
So basically before you start to make bead jewelry, see what type of beads you have and go from there by finding the right strings and then learn the right beading technique for the bead jewelry project you have in mind.
Source: Bead Jewelry Making > Articles > How to start making bead jewelry?
Click Here to Visit