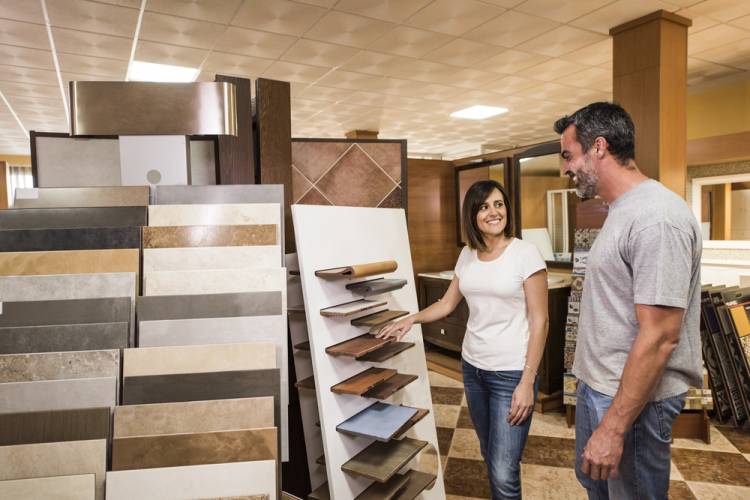 A Competitive Study between Ceramic and Porcelain Tiles
Homeowners, while making their dream houses, often come across the challenge of selecting between porcelain and ceramic tiles. If you wish to add the beauty of tiles to your floors, countertop or walls you need to place these tiles at top of your list. They provide the most vibrant and stylish look to your home. Though they belong to the same family, they work differently. Apart from being the most commonly used tiles for flooring, each one of them has its own pros and cons.
This is the reason why people get confused before choosing between them. If you are also one of them then read on to know more about the differentiating features of porcelain and ceramic tiles. In this blog, I have made an attempt to resolve the long-lasting dilemma with a competitive study between the ceramic and porcelain tiles so that you can select the perfect one for yourself.
Difference in Composition
Ceramic tiles are made of clays and other natural materials. These clays are firstly shaped, colored and then fired in kilns. Traditional ceramic tiles come with natural colors and often left unglazed to obtain the terra cotta like matte look. At the same time, you also have the option to add vibrant colors to it with a glossy finish.
Most of these tiles are either white or red body in color underneath the glossy and colored top layer. On the other hand, porcelain tiles are the new and advanced version of ceramic tiles that are composed of fine porcelain clays and fired at competitively higher temperatures than ceramic tiles.
Appearance
Ceramic tiles are available in different colors with a glossy finish at the top of the surface for both floors and walls. Porcelain tiles are usually not glazed. Shine is only applied to it to give the surface an additional detail. You can get a matte and glossy finish with both the tiles but they differ from each other when it comes to the durability.
If you chip a ceramic tile, the glaze will come off but in case of porcelain tiles, the color remains the same even if you chip it. Ceramic tiles are available in a huge variety of colors and sizes; in contrast, porcelain tiles offer a wide range of styles and looks.
Density
Ceramic tiles are of two types, one is mono cottura and other is bi-cottura. Both these types are made of wet clay which is shaped, dried, glazed and fired until hard. Bicottura is harder and denser than mono-cottura tiles. In porcelain tiles, clay dust is used instead of wet clay. Once it is dried, preferred colors are added to it and then compressed under immense pressure, which makes it more durable and dense.
Water Absorption Rate
Based on the water absorption rate ceramic tiles can be classified into the following categories-
Non-vitreous, that indicates water absorption rate up to 7%
Semi-vitreous indicates water absorption rate between 3% and 7% water
Vitreous indicates water absorption rate to only 0.5 %
On the other, hand porcelain tiles are considered to be more solid and hold the capacity of water absorption up to .5%. Generally, the absorption rate of ceramic tile does not affect it much but if you want to use it under a stream shower then it is recommended for you to go for a vitreous tile to avoid staining. Porcelain tiles are easy to use for any purpose due to its low absorption capacity.
Cost
In general, ceramic tiles are less expensive than porcelain tiles. At the same time, porcelain tiles are long lasting and a good investment on flooring.
Maintenance
Again Porcelain tiles are easy to maintain because it is waterproof, resistant to damage and stains and its water penetration ability. Cleaning, mopping and sweeping on a regular basis are enough to keep dust and dirt away from your floors. Due to its hardness, Ceramic tiles are tough to clean. Now when you know the basic difference between the types of tiles it will be easier for you to determine which one is a better choice for your flooring. You need to make sure that you consider these factors before contacting porcelain and ceramic tile suppliers in Canada.
Click Here to Visit