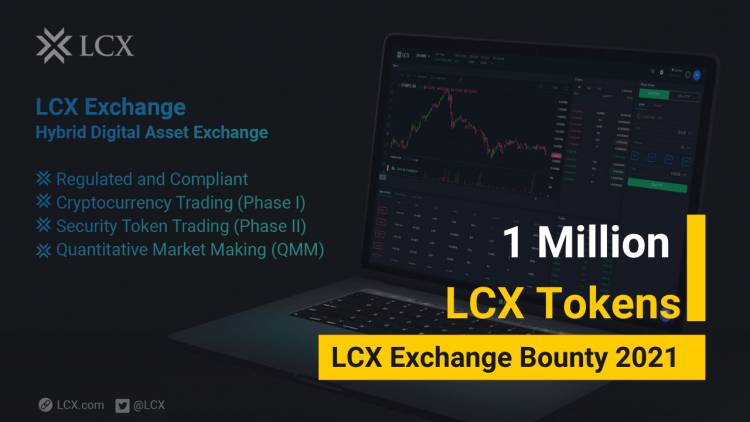 1 Million LCX Tokens Giveaway
What is LCX?
The Liechtenstein Cryptoassets Exchange - A Blockchain Ecosystem For The New Financial World.
What are its Products and Services?
LCX Terminal - Cryptocurrency Trading Platform For Professional Investors - LCX Terminal is a cryptocurrency trading platform. Connect to 9 exchanges via one account. Trading, Reporting, News Desk, Watchlists, Price Alerts.
LCX Smart Order Routing for Cryptocurrencies and Digital Assets - LCX Smart Order is an automated smart order routing system for cryptocurrency trading. Algorithms compare prices across exchanges and execute trades at best price
LCX STO Launchpad - Tokenization Platform - Security Tokens - LCX STO Launchpad is an 
end to end tokenization platform combining a technology solution with key compliance and legal aspects.
What is the LCX Token?
The LCX Token ($LCX) is an exchange based token and utility token of LCX, the Liechtenstein Cryptoassets Exchange. - The LCX Token is a utility Token which may be used to pay all fees associated with the services offered by LCX AG. The LCX Token can be used as a voucher to pay fees, such as fees for LCX Terminal subscription; fees for custodian solutions LCX Vault; fees for exchange transactions for all crypto assets; exchange fees for fiat-crypto-fiat transactions; processing fees; and other fees within the LCX ecosystem.
Where can you buy LCX Tokens?
LCX Token: Current Exchange Listings - Uniswap, Bilaxy Exchange, Liquid.com, IDEX, HitBTC.com, Probit.com, FatBTC, BitUBU, Vindax.com, Bamboo Relay, Bidesk.com
Click Here to Visit